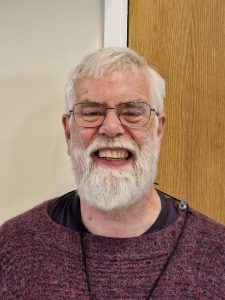 Advent 2
Broadcast time 11am
Sunday 10th December 2023
Service Leader: Robert Dimmick TSSF
Service Type: Morning Worship
Download this week's service order here: (Click to download)
If the video does not appear click to watch on our YouTube Channel ' https://www.youtube.com/@cavershamparkurc/'
Readings used in the service.
Isaiah 52:7-end (NRSV)
7  How beautiful upon the mountains are the feet of the messenger who announces peace, who brings good news, who announces salvation, who says to Zion, "Your God reigns."
8  Listen! Your sentinels lift up their voices, together they sing for joy; for in plain sight they see the return of the LORD to Zion.
9  Break forth together into singing, you ruins of Jerusalem; for the LORD has comforted his people, he has redeemed Jerusalem.
10  The LORD has bared his holy arm before the eyes of all the nations; and all the ends of the earth shall see the salvation of our God.
11  Depart, depart, go out from there! Touch no unclean thing; go out from the midst of it, purify yourselves, you who carry the vessels of the LORD.
12  For you shall not go out in haste, and you shall not go in flight; for the LORD will go before you, and the God of Israel will be your rear guard.
13  See, my servant shall prosper; he shall be exalted and lifted up, and shall be very high.
14  Just as there were many who were astonished at him—so marred was his appearance, beyond human semblance, and his form beyond that of mortals—
15  so he shall startle many nations; kings shall shut their mouths because of him; for that which had not been told them they shall see, and that which they had not heard they shall contemplate.
Luke 12:22-34 (NRSV)
22  He said to his disciples, "Therefore I tell you, do not worry about your life, what you will eat, or about your body, what you will wear.
23  For life is more than food, and the body more than clothing.
24  Consider the ravens: they neither sow nor reap, they have neither storehouse nor barn, and yet God feeds them. Of how much more value are you than the birds!
25  And can any of you by worrying add a single hour to your span of life?
26  If then you are not able to do so small a thing as that, why do you worry about the rest?
27  Consider the lilies, how they grow: they neither toil nor spin; yet I tell you, even Solomon in all his glory was not clothed like one of these.
28  But if God so clothes the grass of the field, which is alive today and tomorrow is thrown into the oven, how much more will he clothe you—you of little faith!
29  And do not keep striving for what you are to eat and what you are to drink, and do not keep worrying.
30  For it is the nations of the world that strive after all these things, and your Father knows that you need them.
31  Instead, strive for his kingdom, and these things will be given to you as well.
32  "Do not be afraid, little flock, for it is your Father's good pleasure to give you the kingdom.
33  Sell your possessions, and give alms. Make purses for yourselves that do not wear out, an unfailing treasure in heaven, where no thief comes near and no moth destroys.
34 For where your treasure is, there your heart will be also.
To send feedback on our services please visit our contact page 'Contact Us'